Buchanan Family, 2019-20 Free Tuition Winner at MVCS Helicopter Golf Ball Drop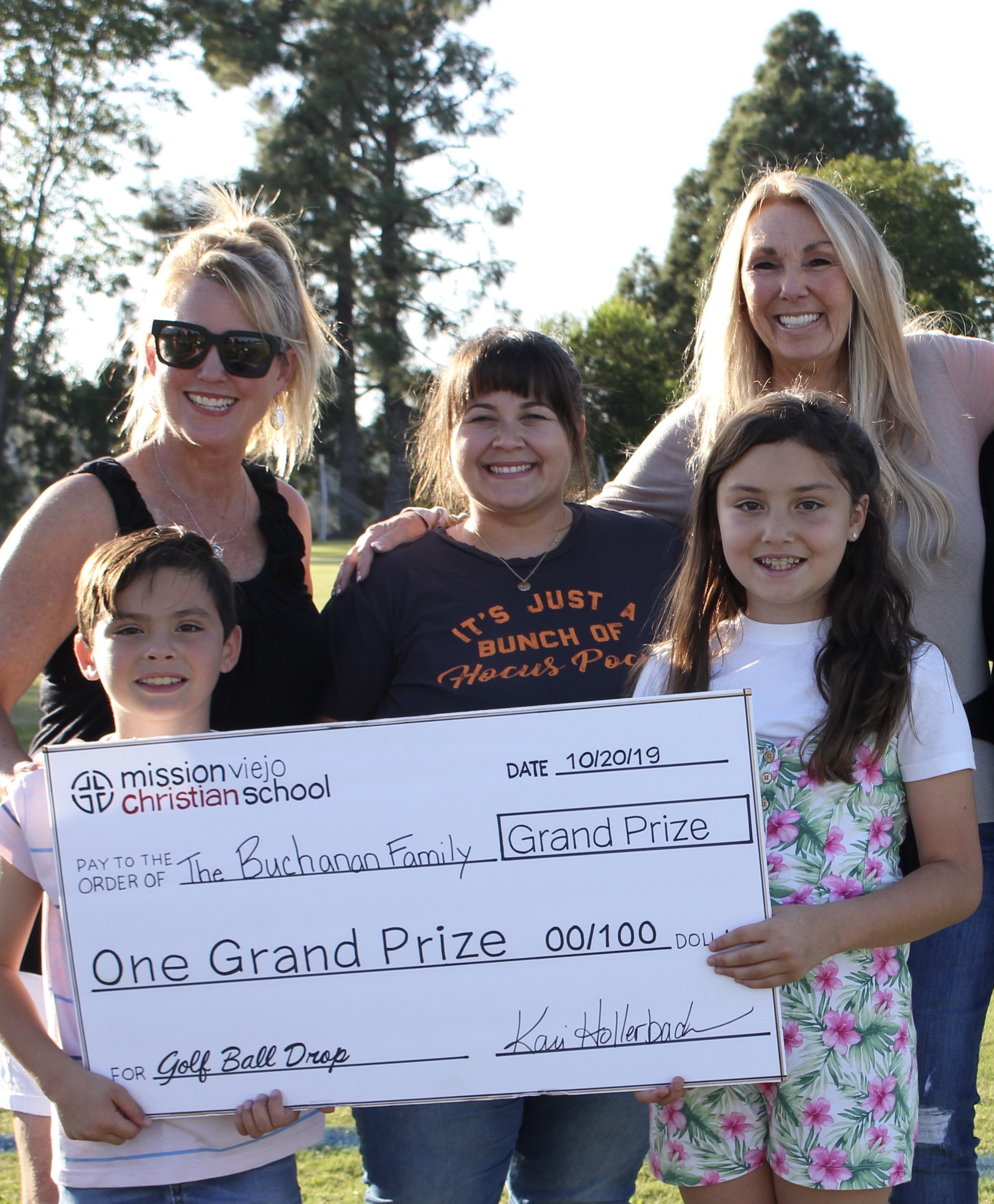 "Our family was so excited to attend the school carnival last year, we have always loved this event and as a family, we attend every year! Usually the kids want to stay until the  carnival closes down and we are usually one of the last ones to leave, but at last year's carnival the weather was very hot so we decided to leave a little early.  We had always celebrated and were excited for all the families that had won in the past.  We prayed every year that whoever won the golf ball drop would be blessed by the Lord with a free year of tuition, we honestly never thought it would be us! 
On our way home from the carnival we received a call that we totally did not expect, we had won the golf ball drop and they asked us to come back to the school to take pictures! We were all so excited, Kayden and Ryah were especially happy and excited and of course we made an immediate U-turn and headed back to school. On the way back to school my sweet little Ryah said, "Grandma, you know how we pray every year that God will bless someone in our MVCS school family with a year of free school, well this year he blessed us, God is so nice!" Ryah's precious words made me cry because she remembered that we should always pray for others - we then all thanked the Lord for being so nice. Then Ryah added to our prayer by saying, Jesus, I hope whoever wins next year will be so happy like we are right now!" I am so grateful that one of the things the teachers and staff at MVCS have taught my grandchildren is that even though we received a very special gift this year we should always continue to pray for everyone in our school family, that the Lord would continue to bless each and every family all year long!"
Misty Rhodes, 2017-18 Free Tuition Winner at MVCS Helicopter Golf Ball Drop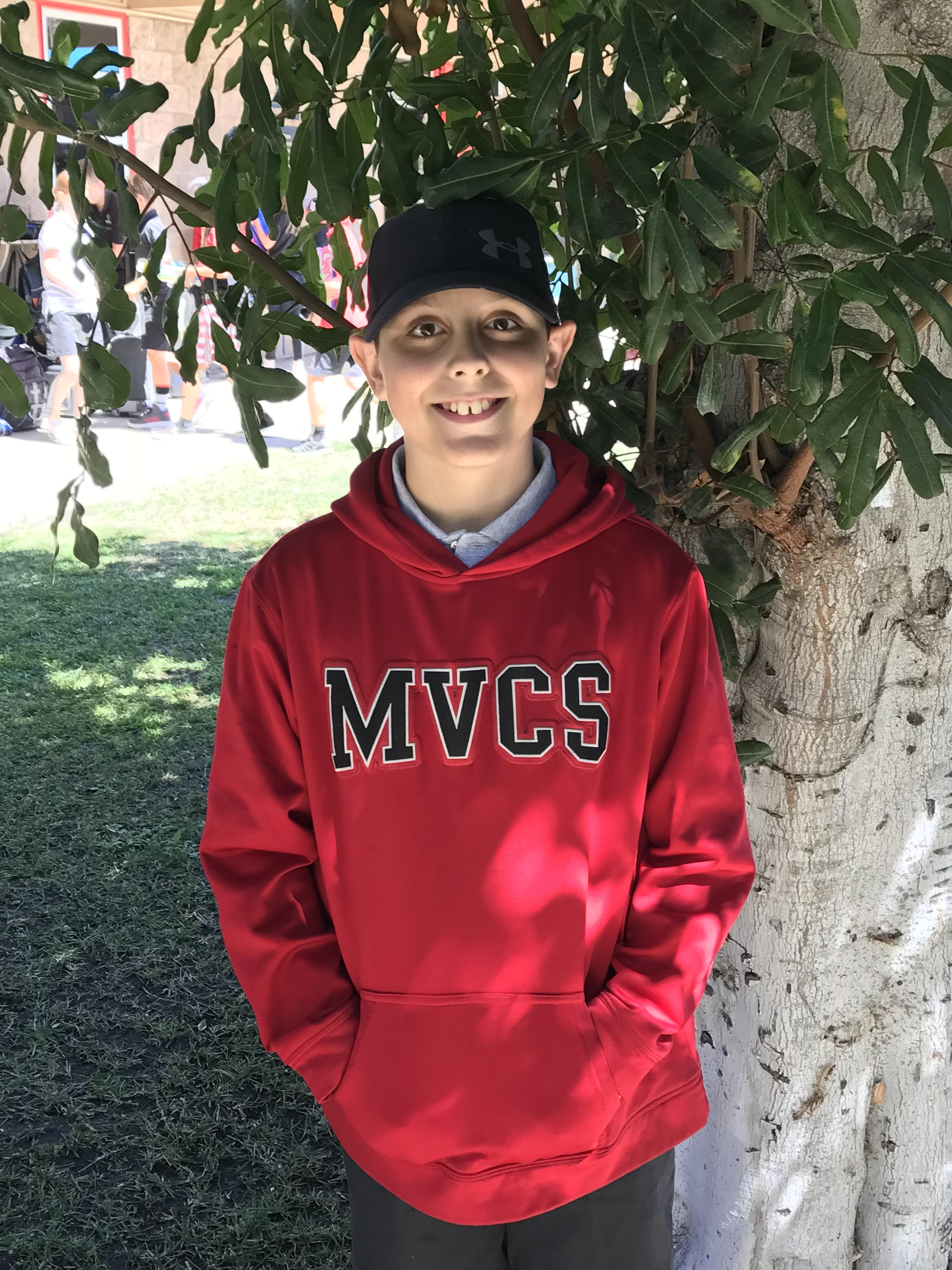 "Last year when we won the golf ball drop we were not present at the Carnival because we all had the flu and were home sick. When the helicopter dropped the golf balls on the field, and our name was called we started to get many calls from friends to tell us the good news. I couldn't believe we had won, it was very surreal. We are still so delighted that we won. What a true blessing.
After winning we had some life events happen which devastated our family. We are all still devastated by this. We are honored and grateful to be able to be there for our family in need. The savings for us is such an amazing gift that only God could have known we were going to need. With this savings we are more able to assist our family with their needs. We have been with MVCS since our son's 3rd grade year. He is in 6th grade now.
We absolutely LOVE MVCS, the staff, the teachers and of course, the families and friends we have made here. This school has made our son's learning so joyful. The staff at MVCS are always there and will help you in any way they can. I cannot think of putting my son anywhere else for his education. We are truly blessed by MVCS and winning free tuition for this year!!!"
Michelle Dudleston, 2016-17 Free Tuition Winner at MVCS Helicopter Golf Ball Drop
"We were in our second year at MVCS, and had already fallen in love with this school - its vision and all of the wonderful administration and teachers that have loved on my two girls, age 6 and 9 at the time. With the motivation of a free-dress week, my littles reminded me daily that they needed to get those golf ball tickets sold. Finally, we got 10 sold for each daughter, our family having bought several ourselves. 
On the day of the drop, unfortunately both my husband and I were traveling and unable to attend. Sometime later that day, I received a call from Principal Sladek. While I was sitting at the Denver airport waiting to come home, my daughter Bailey got on the phone and excitedly told me that we had won with one of her golf balls. I could not believe it! I told everyone in the airport gate area that we had just won the grand prize, and subsequently called my husband and parents. It was so exciting!!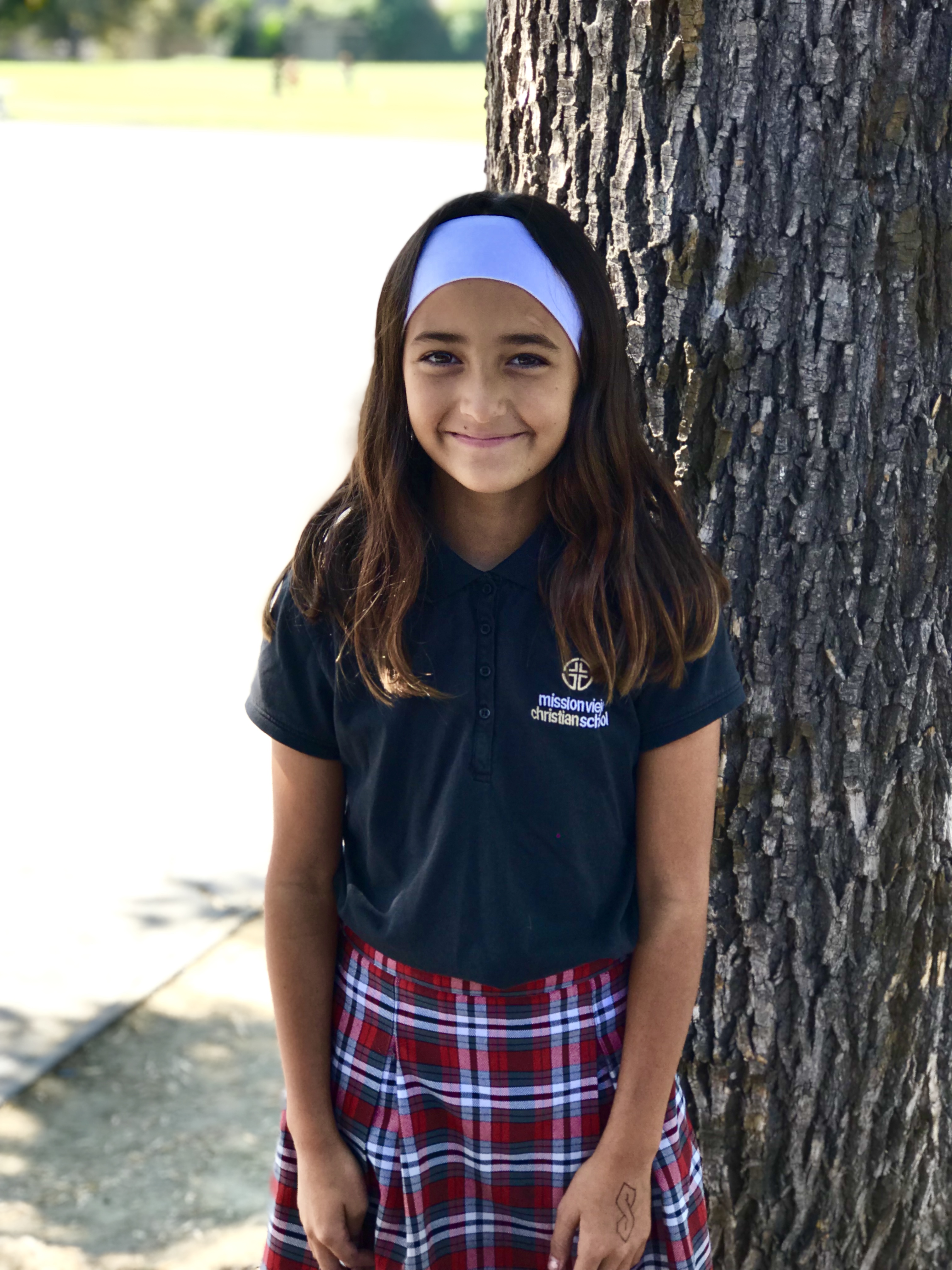 We were later presented with beautiful pictures of our daughter, Bailey, in the moment...it was such a treasure to see her staring up at the sky, eyes closed, praying fervently that we would be the blessed family. And then the moment when she found out that it was her ball that had won, the ecstatic jumping and the smile and scream of delight. The joy of receiving a blessing straight from God written all over my beautiful girl's little face. 
It's difficult to put into words what winning the golf ball drop has meant to our family. God's plans are often incomprehensible in the moment - it's difficult to understand the depth and longevity of God's view. Often, it is in the passage of time that the purpose becomes clear. In the moment, we were thrilled and grateful to be blessed so abundantly - it was the cherry on top of what was shaping up to be a great year. As time went on, and our circumstances changed, it became clear that God was caring for us long before we could see how much we would need it. God knew that our family would go through changes that we did not foresee, and that less than a year later, saving on one of our kids' tuitions would make the difference between staying at MVCS and leaving.
God knew that my kids would need this school, the tender love of their teachers when they were in need of a shoulder to cry on, the extra-curricular activities that would keep them busy and keep their minds off worries, and the MVCS families that surrounded us with friendship and supported us when we needed them most. We know in our hearts that God's plans are to prosper us, but sometimes a very real, tangible blessing reminds us that he is always there, purposely and lovingly holding our hands and leading the way."
GOAL:$75,000.00
ACHIEVED:$79,990.00
Golf Ball Drop entries:
7773